---
2019 Director's Awards for Lifetime Achievement
2019 The Berkeley Lab Prize – Lifetime Achievement Award: TOM MCKONE
Citation: In honor of a lifetime of novel, integrated path-breaking research achievements in the field of Exposure Science that have enabled transformational solutions for environmental challenges and created advanced new tools for scientific discovery, as well as human health and safety.
2019 The Berkeley Lab Prize – Lifetime Achievement Award: SUE CELNIKER
Citation: In recognition of Sue Celniker's leadership and innovation in the areas of genetics and genomics, groundbreaking contributions in the characterization of RNAs, and for over 20 years of dedicated service to the Lab.
2019 Director's Awards for Exceptional Achievement
2019 Diversity: TOM GALLANT
Citation: In recognition of Tom Gallant's role in planning and implementing many initiatives that foster diversity and inclusion among Berkeley Lab's communities.
2019 Early Scientific Career: HEATHER CRAWFORD
Citation: For Heather Crawford's ground-breaking research into the structure of weakly bound nuclei with extreme neutron excess and contributions to the Gamma-Ray Energy Tracking Array – GRETA – Berkeley Lab's latest flagship instrument for the Nation's Nuclear Physics Program.
2019 Early Scientific Career: IAN PONG
Citation: For Ian Pong's technical and managerial excellence in pushing Nb3Sn superconductors and cables toward their performance limits in support of high-energy physics colliders and fusion-energy facilities through the U.S. Magnet Development Program and U.S. High-Luminosity LHC Accelerator Upgrade Project.
2019 Operations: ALS SMOKE EXHAUST SYSTEM REHABILITATION TEAM: BEN BOLLES, BENJAMIN AGAS, CHRISTOPHER WEYANDT, DARREL SHAW, GWOJEN FUNG, JOHN CLARK, NICK BARTLETT, OREN RIEGER, ROBERT ALFORD, SHAWN BAIRD
Citation: In recognition of the Smoke Exhaust System Rehabilitation Team's successful rehabilitation and commissioning of the Advanced Light Source's 30-year-old smoke exhaust system, including their ability to execute it under-budget and ahead of schedule, without incident, interruption, or impact to the science programs.
2019 Outreach: ROMY CHAKRABORTY
Citation: In recognition of Romy Chakraborty's extensive service as a mentor for programs that engage under-represented groups in science, and for her significant contribution to outreach that aims to increase diversity, equity, and including in STEM fields.
2019 Outreach: MIAW-SHEUE TSAI
Citation: For Miaw-Sheue Tsai's exceptional care and dedication for over nearly two decades to teach and train over 90 high school students and undergraduates, many of whom have gone on to career success in biosciences and medicine.
2019 Safety: JOE SABA
Citation: In recognition of Joe Saba's advocacy for safety, engineering expertise, and dedication to ensuring safe research operations in support of science across the Berkeley Lab and at remote research sites. 
2019 Scientific: ERIC ESAREY
Citation: In recognition of Eric Esarey's outstanding contributions to the science and technology of advanced accelerator concepts, and for his pioneering theoretical research in the physics of laser-plasma accelerators that has helped to enable the success of the BELLA Center.
2019 Scientific: LEN PENNACCHIO
Citation: Len Pennacchio is recognized for exceptional scientific contributions toward our understanding of the functions of non-coding DNA in the human genome, and for providing cutting edge genomic technologies to thousands of JGI users to advance DOE-mission science.
2019 Service: TONY WARWICK
Citation: In recognition of Tony Warwick's outstanding service in the area of x-ray optics and beam line design in support of the mission of Berkeley Lab's Advanced Light Source.
2019 Service: MARTHA CONDON
Citation: In honor of Martha Condon's exceptional and versatile service to the Laboratory over her four decade career as the lead administrator at the startup of multiple new and on-going research programs in support of the DOE mission.
2019 Societal Impact: NIHAR SHAH
Citation: In recognition of Nihar Shah's visionary leadership and groundbreaking research on the co-benefits of increasing air-conditioning energy efficiency combined with the phaseout of hydroflourocarbons. His research contributed directly to changing the course of global environmental policy and unlocking millions in investment.
2019 Societal Impact: BORIS FAYBISHENKO
Citation: In recognition of Boris Faybishenko's expert advice and leadership of national and international panels associated with a wide range of contamination challenges, including Chernobyl and DOE legacy waste sites, that have led to major impacts on environmental cleanup protecting health, safety, and the environment.
2019 Societal Impact: RESIDENTIAL VENTILATION TEAM: WOODY DELP, BRENNAN LESS, BRETT SINGER, IAIN WALKER
Citation: In recognition of the Residential Ventilation Team's scientific research and development of technologies, practices, and standards for residential ventilation that have made millions of homes healthier and more comfortable.
2019 Technology Transfer: BRETT HELMS
Citation: In recognition of how Brett Helms's dedication to technology transfer – participating in customer discovery, securing follow-on funding, developing industry relationships, and exploring lab-to-market models – has advanced his transformative science supporting EV/grid reliability and a circular economy.
2018 Director's Awards for Lifetime Achievement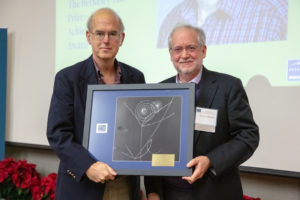 2018 The Berkeley Lab Prize – Lifetime Achievement Award: JOHN BELL
Citation: For intellectual and strategic leadership in applied mathematics at LBNL, and for design and development of sophisticated numerical strategies to address critical scientific problems in support of DOE's research missions.
2018 The Berkeley Lab Prize – Lifetime Achievement Award: PHIL COLELLA
Citation: For the design and development of robust and scalable numerical methods for fluid dynamics, high performance computing implementations, and strong cross-disciplinary collaborations with computer science.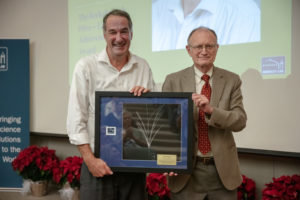 2018 The Berkeley Lab Prize – Lifetime Achievement Award: JIM FLOYD

Citation: For outstanding leadership and operational contributions that fundamentally changed and improved the way that EH&S supports and collaborates with the research mission at the Laboratory. 
2018 Director's Awards for Exceptional Achievement
2018 The Berkeley Lab Citation: ROBERT CAHN
Citation: For outstanding and sustained achievements in research, scientific leadership, and mentorship across the fields of theoretical particle physics, instrumentation, experimental particle physics, and cosmology during a productive career spanning more than forty years at LBNL.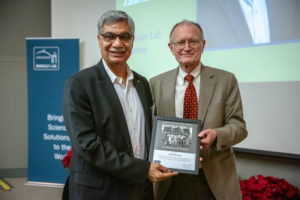 2018 The Berkeley Lab Citation: ZAHID HUSSAIN
Citation: For achievements in leading the development of many innovative soft x-ray instruments, which have spawned a vibrant and world-leading soft x-ray user program at the Advanced Light Source.
2018 The Berkeley Lab Citation: DONALD SYVERSRUD
Citation: In honor of 40 years of dedicated service to LBNL, supporting discovery science through performance and supervision of mechanical technology and related work, with excellent results under often challenging circumstances.
2018 Early Scientific Career: ETHAN CRUMLIN
Citation: For the scientific advancement in solid/liquid electrochemical interfacial characterization for energy science using in situ and operando "tender" X-ray Ambient Pressure X-ray Photoelectron Spectroscopy (APXPS).
2018 Early Scientific Career: ANDRIA RODRIGUES
Citation: For transformational work in microbial biochemistry and enzyme discovery that supports Berkeley Lab missions related to energy and sustainability.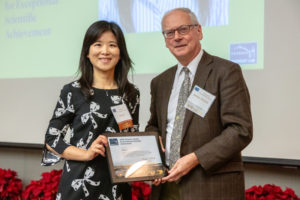 2018 Scientific: QING JI
Citation: For versatile excellence in applications of ion sources and beam transport systems, together with a commitment to technology transfer and industrial partnership, and to diversity, equity, and inclusion for the modern-day "hidden figures" of physical sciences.
2018 Scientific: CAROLYN LARABELL
Citation: For pioneering a 3-D imaging technique to visualize cell architecture, soft X-ray tomography microscopy, and enabling the visualization of chromatin compaction and reorganization during neurogenesis.
2018 Operations: THE CYBER SECURITY TEAM: PARTHA BANERJEE, JAY KROUS, CRAIG LERES, MIGUEL SALAZAR, AASHISH SHARMA, DIANE TOBIT, SOLEDAD TOLEDANO, JAMES WELCHER Citation: For extraordinary performance in enabling scientific research by providing smart, risk-based, science-centric cyber security to the Laboratory.
2018 Safety: TRACY MATTOX
Citation: For enhancing lab safety culture by using innovative ways to bring ISM to the laboratory bench.
2018 Outreach: ALS TOUR GUIDES: CHRISTINE BEAVERS, DULA PARKINSON, INA REICHEL, TOM SCARVIE, DOUG TAUBE, ASHLEY WHITE
Citation: For their dedication to outreach in support of high-quality educational programming through tours of the Advanced Light Source and the development of related educational content.
2018 Diversity: C. ANNA SPURLOCK
Citation: In recognition of her tireless efforts to ensure the Lab is a welcoming and inclusive workplace for people of all communities, and for her efforts to increase the Lab's progress in diversity, equity and inclusion. 
2018 Diversity: RITA GARCIA
Citation: For exceptional leadership in developing new and innovative tools and practices that expand the division's diverse and inclusive research environment for staff and users.
2018 Societal Impact: THIRDHAND SMOKE RESEARCH TEAM: HUGO DESTAILLATS, LARA GUNDEL, BO HANG, JIAN-HUA MAO, ALTAF SARKER, BRETT SINGER, MOHAMAD SLEIMAN, ANTOINE SNIJDERS, XIAOCHEN TANG
Citation: This multidisciplinary and cross-divisional team is honored for decade-long research accomplishments culminating in their discovery that thirdhand smoke, a new tobacco hazard, increases lung cancer risk in mice. This achievement is vital for protecting and improving public health nationwide.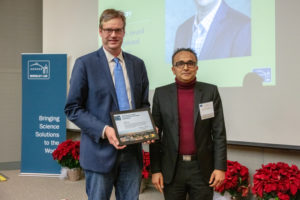 2018 Technology Transfer: TODD PRAY
Citation: Todd Pray's leadership and expertise has built the Advanced Biofuels & Bioproducts Process Development Unit into a premier process development facility and unparalleled resource for companies working to accelerate bio-based technologies from lab-to-market, and to grow a clean bioeconomy for the nation.
2018 Technology Transfer: LIVING LAB EVALUATION OF ADVANCED DAYLIGHTING AND LIGHTING SYSTEMS: DARRYL DICKERHOFF, LUIS FERNANDES, DANIEL FULLER, CHRISTOPH GEHBAUER, ELEANOR LEE, STEPHEN SELKOWITZ, JORDAN SHACKELFORD, ANOTHAI THANACHAREONKIT, TAONING WANG
Citation: A Living Lab partnership with Goldman Sachs (GS) leveraged LBNL's world-class science to obtain an objective assessment of innovative daylighting and lighting energy efficiency technologies and promote lessons learned strategies throughout the worldwide GS organization and the broader buildings industry.
2017 Director's Awards for Lifetime Achievement
2017 The Berkeley Lab Prize – Lifetime Achievement Award: CARL HABER
"For astonishing innovations in tracking fundamental particles and adaptations of them to recover vital historic sound recordings, thereby enabling cultures around the world to hear again their traditional songs and verses."
2017 The Berkeley Lab Prize – Lifetime Achievement Award: RICHARD RUSSO
"In recognition of life‐long leadership and innovation in the area of laser science and technology, groundbreaking contributions that transformed the field of analytical chemistry, and for 35 years of dedicated service to the Lab."
2017 Director's Awards for Exceptional Achievement

2017 The Berkeley Lab Citation: MICHAEL BANDA
"For seminal and lasting contributions to building and guiding multiple major programs at Lawrence Berkeley National Laboratory."
2017 The Berkeley Lab Citation: MARY SIDNEY
"For extraordinary achievements in operations enabling the successful establishment of the Life Sciences Division and the Energy Technologies Area at Lawrence Berkeley National Laboratory."
2017 Early Scientific Career: PETER ERCIUS
"For the development of a world-leading atomic-resolution electron tomography research and user program at Lawrence Berkeley National Laboratory."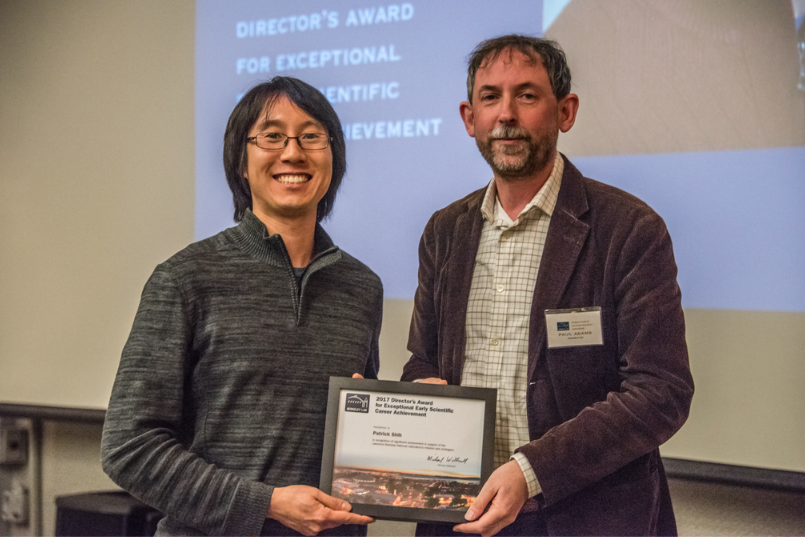 2017 Early Scientific Career: PATRICK SHIH
"For work that is contributing to revolutionizing the field of plant biology, synthetic biology and metabolic engineering, while supporting key Berkeley Lab missions related to energy, sustainability and human health."
2017 Operations: RAY TURNER
"In recognition of his tireless efforts to ensure the DOE Joint Genome Institute's integration into the Biosciences Area, the successful recruitment of a new JGI Director, and towards the strategic co-localization of JGI and KBase at the Integrative Genomics Building."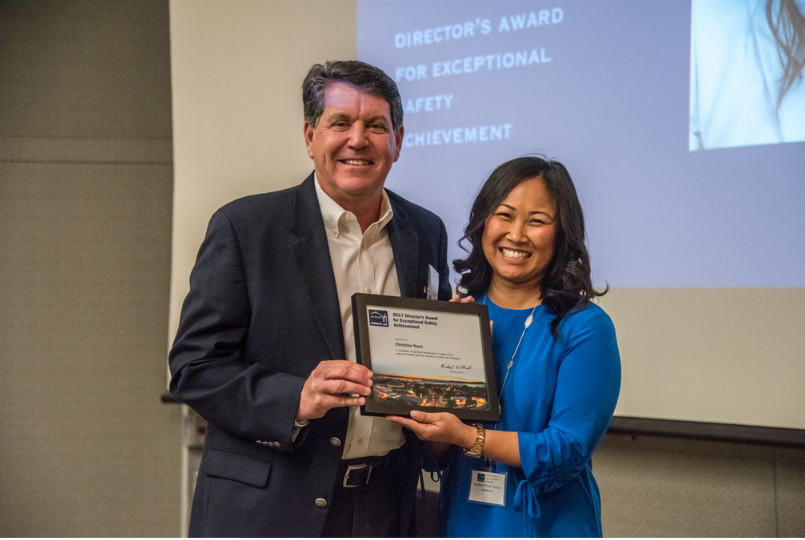 2017 Safety: CHRISTINE NACA
"For her leadership in building an outstanding safety culture at the DOE Joint Genome Institute."
2017 Safety: ARI HARDING
"For his efforts to ensure  that our workplace and research activities are safe, and for modeling exemplary behavior in promoting a culture of electrical safety throughout the Laboratory."
2017 Outreach: ROBIN LOPEZ
"For a sustained and impressive commitment to scientific outreach in the local community."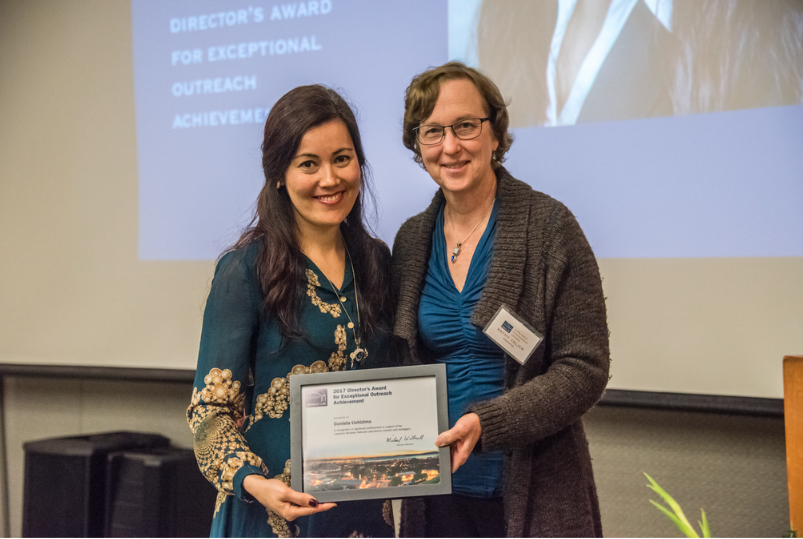 2017 Outreach: DANIELA USHIZIMA
"For her selfless and tireless efforts as an exemplary ambassador of science and goodwill, engaging new and emerging scientists around the globe, and sharing knowledge that improves others' lives."
2017 Diversity: AMANDA KRIEGER
"For her promotion of LGBTQ inclusion at Berkeley Lab, for her work to make the Lab a welcoming workplace for people of all communities, and her efforts to raise awareness of the Lab's progress in diversity and inclusion."
2017 Scientific: MARGARET TORN
"Margaret Torn designed powerful experiments in California and Alaska and employed novel, multi-scale observing systems under challenging field conditions to document unexpectedly large soil CO2 and CH4 production in response to climate signals."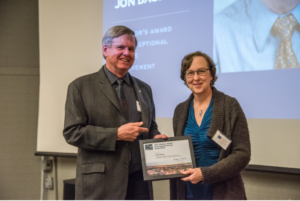 2017 Service: JON BASHOR
"For over 20 years, Jon raised the profile of Berkeley Lab's leadership in computer science, math, supercomputing and networking. His outreach to local schools elevated the Lab's reputation in the community and created opportunities for students interested in science."
2017 Diversity: IRINA SILVA
"For exceptional efforts to link Berkeley Lab science and scientists with local young people, and to help train a future scientific workforce that truly represents the diversity of the Bay Area."
2017 Societal Impact: THE INDUSTRIAL APPLICATIONS TEAM:
BUNMI ADESOLA, ARIAN AGHAJANZADEH, JINGJING LIU, WILLIAM C. MILLER, PRAKASH RAO, PAUL SHEAFFER, PETER THERKELSEN, VESTAL TUTTEROW, CHRISTINE WU
"For research of barriers limiting adoption of ISO 50001 energy management business practices and development of the ISO 50001 energy and CO2 impacts methodology, which resulted in national and corporate commitments at Clean Energy Ministerial meetings and national efficiency programs."
2017 Technology Transfer: SAMVEG SAXENA
"Sam Saxena's diligence, flexibility, and intense interest in technology transfer and customer discovery have transitioned his software from the world of grid research to a consumer app that encourages EV and other fuel-efficient car purchases."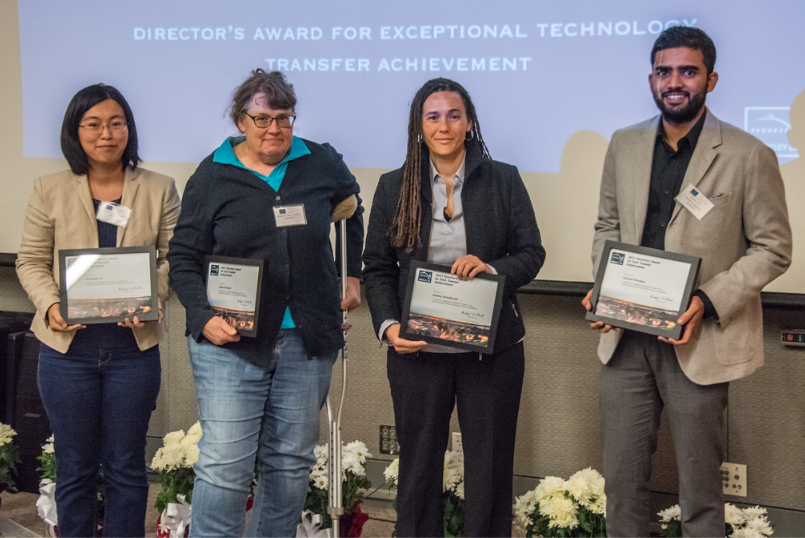 2017 Technology Transfer: RETRO-COMMISSIONING SENSOR SUITCASE COMMERCIALIZATION TEAM:
SAMUEL FERNANDES, JESSICA GRANDERSON, GUANJING LIN, ROBIN MITCHELL
"Berkeley Lab is pleased to recognize the Building Technology and Urban Systems Division's Retro-commissioning Sensor Suitcase Commercialization Team with the 2017 Director's Award for Exceptional Achievement in Technology Transfer."
---
2016 The Berkeley Lab Prize – Lifetime Achievement Award: MIQUEL SALMERON
For scientific advances and leadership in studying materials surface and interfaces for energy applications and the development of requisite in-situ characterization tools
2016 Director's Awards for Exceptional Achievement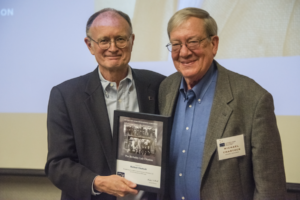 The Berkeley Lab Citation: MICHAEL CHARTOCK
For his impressive ability to tackle any problem that came to Berkeley Lab, always contributing generously, effectively and with great devotion to the institution over the course of his long career.
The Berkeley Lab Citation: JUSTIN HARTY
For the exceptional goals he accomplished in the areas of improving resource management and efficiency, for his success in forming partnerships across organizational/departmental boundaries and for his significant contributions to the DOE system.
Early Scientific Career: HARI KRISHNAN
For sustained and exceptional efforts in software architecture and technical management that have helped science projects meet key objectives and deliverables, and increased the visibility of lab science programs to DOE and the scientific community.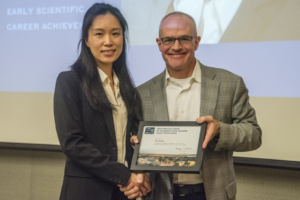 Early Scientific Career: YAN LIANG
For innovations that will enable the transformation of the field of plant synthetic biology while providing novel approaches for crop engineering to support Berkeley Lab and DOE's missions related to sustainability, food and energy.
Early Scientific Career: OLIVER RUEBEL
For the conception, design, and implementation of the OpenMSI system, an award-winning exemplary cross-divisional effort that enables breakthrough science through a combination of technologies for data and computing.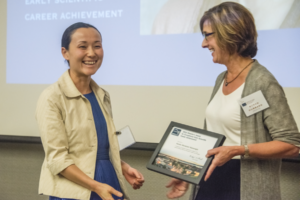 Early Scientific Career: HARUKO WAINWRIGHT
For pioneering zonation-based estimation methodologies, with a focus on novel approaches that use geophysical data and their application to DOE challenges in environmental remediation, carbon cycle, and water resources.
Operations: F$M PHASE IIA PROJECT TEAM
CHUCK AXTHELM
MICHELLE BENNETT
VIK BHATIA
CRAIG CHALLBORN
DAVID GALBREATH
BRIDGET HAVERTY
MINH HUEBNER
MARIA-CORAZON HUTCHINS
JANET LEONG
ANNA LOSEV
HARISH MOHAN
KAREN SALVINI
ANASTASIA SCHILLER
KAMESWARA UPADHYAYULA
ELIJAH WALKER, III
PHIL WEISS
For successfully leading and delivering a comprehensive re-implementation of LBNL's financial system and reporting data warehouse on schedule, in scope and within budget, which provides improved financial information, services and risk mitigation to support the Lab's research mission.
Operations/Safety: WANG HALL (CRT PROJECT) ENERGIZATION TEAM
NICK BARTLETT
ELIZABETH BAUTISTA
JEFF BROUGHTON
DOUG BURKHARDT
TINA DECLERCK
STEPHANIE COLLINS
THOMAS DAVIS
BRENT DRANEY
KATHY EIDSON
STEVE FILIPPOFF
JEFF GROUNDS
JIM HASLAM
JACK HEFFERNAN
SCOTT HOBBS
LISA HUNT
ERNIE JEW
KATHERINE JOHNSON
GLENN KERIN
MIKE KINCAID
TODD LABERGE
KEITH LAFORGA
MIKE LEE
MIKE MAGUIRE
JIM MURPHY
DENNIS NIELSEN
BERNARD RUFFENACH
MARK SCOTT
DARREL SHAW
SHEREE SWANSON
QUANG TRAN
STAN TUHOLSKI
MARV VELANTE
STEVE WARNER
The safe and successful energization of Wang Hall and the Cori computer was made possible by the close teamwork and integration of contributors from across NERSC, Facilities, EH&S, Protective Services and Procurement.
Outreach/Diversity: JAVIER CEJA-NAVARRO
For outstanding contributions to the dissemination of Berkeley Lab science locally, nationally and globally to the public, students, scientists and other stakeholders, and for significant efforts to extend outreach activities to underrepresented minorities.
Scientific: EVA NOGALES
For elucidating the structure and function of the complex macromolecular machine affecting the initiation of transcription – a fundamental cellular process and major point of gene expression regulation – using cryo-electron microscopy.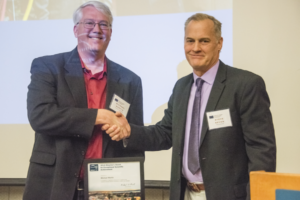 Scientific: ALS INFRARED BEAMLINE TEAM
HANS A. BECHTEL
MICHAEL C. MARTIN
For the development of Synchrotron Infrared Nano-Spectroscopy (SINS).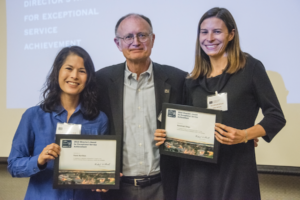 Service: BERKELEY LAB MICROBIOME INITIATIVE TEAM
JIM BRISTOW
EOIN BRODIE
PETER NICO
TRENT NORTHEN
SUSANNAH TRINGE
For exemplary efforts to enhance microbiome research across Berkeley Lab and the nation, for crafting a vision for microbiome research that integrates Biosciences and Earth and Environmental Science Areas, and for their important contribution to the formulation of the national microbiome initiative.
Societal Impact: ALISO CANYON
BARRY FREIFELD
PRESTON JORDAN
CURTIS OLDENBURG
LEHUA PAN
For their contributions to solving the 2015 Aliso Canyon well blowout disaster in Southern California, and to making future natural gas storage profoundly safer through their insistence that regulations require two or more barriers to contain gas pressure in wells.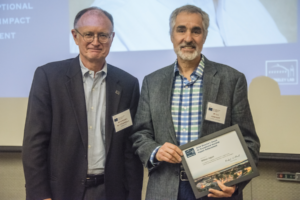 Societal Impact: WILLIAM JAGUST
For giving hope for a cure to Alzheimer's Disease through pioneering studies elucidating its mechanisms, differentiating its symptoms from normal aging, developing clinical trials for the prevention and treatment of Alzheimer's disease, and communicating this work to the public.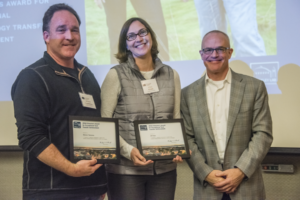 Technology Transfer: CINDERBIO TEAM
JILL FUSS
STEVEN YANNONE
With diligence, resourcefulness and entrepreneurial skill, the CinderBio team transitioned basic enzyme research into green, efficient, cost-effective and sustainable replacements for harsh chemicals used in industrial processes.
Tech Transfer: MICHAEL TUCKER
In recognition of his efforts to develop industrially-relevant technology and transfer it out of Berkeley Lab for commercialization, and his recent leadership in fostering entrepreneurial mindset and skills among Berkeley Lab researchers.
2015 Berkeley Lab Prize – Lifetime Achievement Award
Ulrich Dahmen
Peter Denes
Ken Downing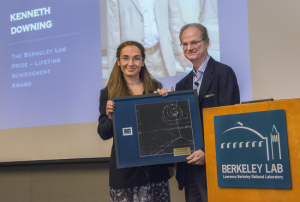 2015 Director's Award for Exceptional Achievement
Berkeley Lab Citation:
Eleanor Blakely Zizka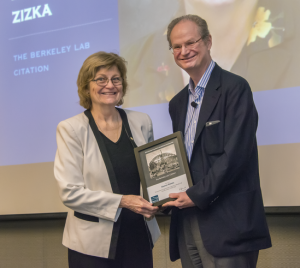 Lynn Rippe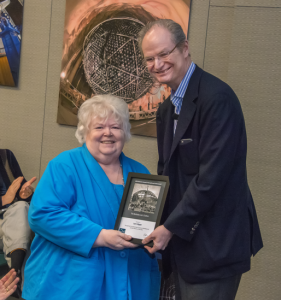 Michael Zisman
Early Scientific Career: Corinne Scown
Early Scientific Career: Alexander Hexemer, Cheng Wang, Eric Schaible
Scientific: Christoph Steier and Arnaud Madur
Scientific: Rich Celestre, David Kilcoyne, Stefano Marchesini, David Shapiro, Tolek Tyliszczak, Tony Warwick, Lee Yang
Operations: Kim Williams, Lon Freeman, Jeff Blair, Glenn Kubiak, Ray Miskelley, Ken Reicher
Operations: Eli Dart and Brent Draney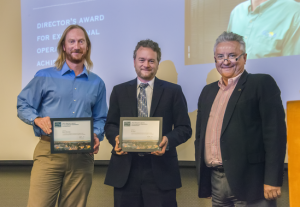 Safety: Scott Taylor
Service: James Sethian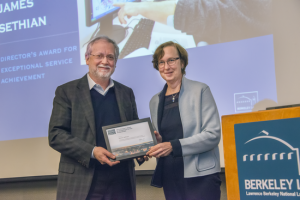 Diversity: Deborah Agarwal
Service: Steve Greenberg
Outreach: Sarah Richardson