2018 Director's Awards for Lifetime Achievement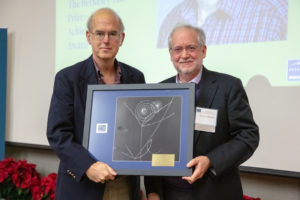 2018 The Berkeley Lab Prize – Lifetime Achievement Award: JOHN BELL
Citation: For intellectual and strategic leadership in applied mathematics at LBNL, and for design and development of sophisticated numerical strategies to address critical scientific problems in support of DOE's research missions.
2018 The Berkeley Lab Prize – Lifetime Achievement Award: PHIL COLELLA
Citation: For the design and development of robust and scalable numerical methods for fluid dynamics, high performance computing implementations, and strong cross-disciplinary collaborations with computer science.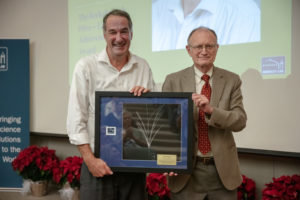 2018 The Berkeley Lab Prize – Lifetime Achievement Award: JIM FLOYD

Citation: For outstanding leadership and operational contributions that fundamentally changed and improved the way that EH&S supports and collaborates with the research mission at the Laboratory. 
2018 Director's Awards for Exceptional Achievement
2018 The Berkeley Lab Citation: ROBERT CAHN
Citation: For outstanding and sustained achievements in research, scientific leadership, and mentorship across the fields of theoretical particle physics, instrumentation, experimental particle physics, and cosmology during a productive career spanning more than forty years at LBNL.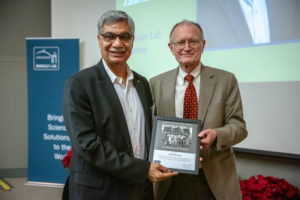 2018 The Berkeley Lab Citation: ZAHID HUSSAIN
Citation: For achievements in leading the development of many innovative soft x-ray instruments, which have spawned a vibrant and world-leading soft x-ray user program at the Advanced Light Source.
2018 The Berkeley Lab Citation: DONALD SYVERSRUD
Citation: In honor of 40 years of dedicated service to LBNL, supporting discovery science through performance and supervision of mechanical technology and related work, with excellent results under often challenging circumstances.
2018 Early Scientific Career: ETHAN CRUMLIN
Citation: For the scientific advancement in solid/liquid electrochemical interfacial characterization for energy science using in situ and operando "tender" X-ray Ambient Pressure X-ray Photoelectron Spectroscopy (APXPS).
2018 Early Scientific Career: ANDRIA RODRIGUES
Citation: For transformational work in microbial biochemistry and enzyme discovery that supports Berkeley Lab missions related to energy and sustainability.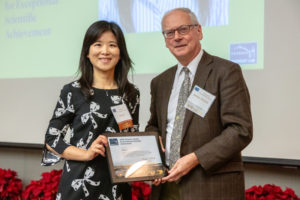 2018 Scientific: QING JI
Citation: For versatile excellence in applications of ion sources and beam transport systems, together with a commitment to technology transfer and industrial partnership, and to diversity, equity, and inclusion for the modern-day "hidden figures" of physical sciences.
2018 Scientific: CAROLYN LARABELL
Citation: For pioneering a 3-D imaging technique to visualize cell architecture, soft X-ray tomography microscopy, and enabling the visualization of chromatin compaction and reorganization during neurogenesis.
2018 Operations: THE CYBER SECURITY TEAM: PARTHA BANERJEE, JAY KROUS, CRAIG LERES, MIGUEL SALAZAR, AASHISH SHARMA, DIANE TOBIT, SOLEDAD TOLEDANO, JAMES WELCHER Citation: For extraordinary performance in enabling scientific research by providing smart, risk-based, science-centric cyber security to the Laboratory.
2018 Safety: TRACY MATTOX
Citation: For enhancing lab safety culture by using innovative ways to bring ISM to the laboratory bench.
2018 Outreach: ALS TOUR GUIDES: CHRISTINE BEAVERS, DULA PARKINSON, INA REICHEL, TOM SCARVIE, DOUG TAUBE, ASHLEY WHITE
Citation: For their dedication to outreach in support of high-quality educational programming through tours of the Advanced Light Source and the development of related educational content.
2018 Diversity: C. ANNA SPURLOCK
Citation: In recognition of her tireless efforts to ensure the Lab is a welcoming and inclusive workplace for people of all communities, and for her efforts to increase the Lab's progress in diversity, equity and inclusion. 
2018 Diversity: RITA GARCIA
Citation: For exceptional leadership in developing new and innovative tools and practices that expand the division's diverse and inclusive research environment for staff and users.
2018 Societal Impact: THIRDHAND SMOKE RESEARCH TEAM: HUGO DESTAILLATS, LARA GUNDEL, BO HANG, JIAN-HUA MAO, ALTAF SARKER, BRETT SINGER, MOHAMAD SLEIMAN, ANTOINE SNIJDERS, XIAOCHEN TANG
Citation: This multidisciplinary and cross-divisional team is honored for decade-long research accomplishments culminating in their discovery that thirdhand smoke, a new tobacco hazard, increases lung cancer risk in mice. This achievement is vital for protecting and improving public health nationwide.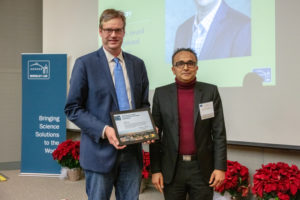 2018 Technology Transfer: TODD PRAY
Citation: Todd Pray's leadership and expertise has built the Advanced Biofuels & Bioproducts Process Development Unit into a premier process development facility and unparalleled resource for companies working to accelerate bio-based technologies from lab-to-market, and to grow a clean bioeconomy for the nation.
2018 Technology Transfer: LIVING LAB EVALUATION OF ADVANCED DAYLIGHTING AND LIGHTING SYSTEMS: DARRYL DICKERHOFF, LUIS FERNANDES, DANIEL FULLER, CHRISTOPH GEHBAUER, ELEANOR LEE, STEPHEN SELKOWITZ, JORDAN SHACKELFORD, ANOTHAI THANACHAREONKIT, TAONING WANG
Citation: A Living Lab partnership with Goldman Sachs (GS) leveraged LBNL's world-class science to obtain an objective assessment of innovative daylighting and lighting energy efficiency technologies and promote lessons learned strategies throughout the worldwide GS organization and the broader buildings industry.