2020 Director's Awards for Lifetime Achievement
2020 The Berkeley Lab Prize – Lifetime Achievement Award: Alastair MacDowell
Citation: For Alastair's extraordinary achievements in x-ray instrumentation that resulted in ALS becoming a world leading facility, and for helping to cement the ALS's standing as one of the core scientific centers at LBNL.
2020 The Berkeley Lab Prize – Lifetime Achievement Award: Murdock Gilchriese
Citation: For Gil's far-ranging contributions to the development and management of complex projects in High Energy Physics that have addressed key questions in and beyond the Standard Model at both colliders and in underground experiments, and for the development of novel techniques and Laboratory capabilities necessary for the construction of precision trackers.
2020 The Berkeley Lab Prize – Lifetime Achievement Award: Lynn Price
Citation: Lynn Price is being honored for a career marked by extraordinary global outcomes, most notably the design of innovative industrial energy efficiency policy in China, as well as her analysis and leadership that contributed to the 2015 Paris Climate Agreement.
2020 Director's Awards for Exceptional Achievement
2020 Berkeley Lab Citation: Katherine Yelick                                                                                                                                Citation: For Kathy's extraordinary leadership both within the Lab and at the national level, including her significant role in developing DOE strategy in Exascale and Quantum Computing, Big Data, and Artificial Intelligence.

2020 Berkeley Lab Citation: Deborah A. Agarwal
Citation: For Deb's intellectual and strategic leadership in data science and technology at Berkeley Lab, and for the design and development of data systems to address critical scientific problems in support of DOE's research missions.
2020 Early Scientific Career: Emiley Eloe-Fadrosh
Citation: In recognition of Emiley's exceptional accomplishments in microbiome data science and for establishing the National Microbiome Data Collaborative as a resource in support of DOE's science mission.
2020 Early Scientific Career: Chris Mungall
Citation: For Chris' leadership of the design and development of collaborative, open-source, cross-cutting software and ontologies for tackling key scientific challenges, such as novel knowledge integration approaches to address COVID-19.
2020 Early Scientific Career: Charuleka Varadharajan
Citation: Presented in recognition of Charuleka's exceptional achievements and leadership in the area of data science for earth and environmental science. Her contributions have greatly impacted scientific understanding of these systems and have influenced collaborations across teams and DOE-BER research directions.
2020 Early Scientific Career: Peter Agbo
Citation: For Peter's creative and groundbreaking work on the development of prototype test bed devices for solar fuel generation and of bio-inspired platforms for electrocatalysis.
2020 Operations: IGB Move & Transition Team – Lisa Kegg, Donald Miller, Christine Naca
Citation: In recognition of Christine Naca, Don Miller, and Lisa Kegg's s outstanding success in the planning and execution of the move of the JGI User Facility and KBase Teams to the Integrative Genomic Building, as well as the restoration of JGI's former Walnut Creek facility. 
2020 Operations: NAWI Team – Peter Fiske, Jim Hawley, Purabi Thakre, Carol Valladao, Michelle Chew Wong
Citation: For the extraordinary Operations-Development-Scientific teamwork of Peter Fiske, Carol Valladao, Michelle Chew Wong, Jim Hawley and Purabi Thakre that played an essential role in Berkeley Lab's award of the $100M DOE Water-Energy Hub, NAWI. This team of legal, CA government affairs, financial, and science experts demonstrated deep dedication to working assiduously and creatively to advance clever constructs and to overcome significant bottlenecks associated with developing the proposal and getting the award under contract.
2020 Outreach: JGI Podcast – Massie S. Ballon, Alison F. Takemura, Daniel W. Udwary
Citation: To Massie Ballon, Alison Takemura, and Dan Udwary for conceiving, branding, and launching two podcast series, the Genome Insider and the Natural Prodcast, to improve new user and public engagement, and sustaining these series in the midst of a global pandemic.
2020 Safety: ALS Safety – David J. Malone, Shraddha Ravani, Doug Taube, Scott Taylor
Citation: This award recognizes the team of Scott Taylor, Doug Taube, David Malone, and Shraddha Ravani for their exceptional service to the ALS user community. They provided the expertise and humor needed to enable 2,000 scientists a year to safely perform outstanding research.
2020 Scientific: Carl I. Steefel
Citation: For Carl's pioneering of the development of cutting-edge computational geoscience capabilities, for the discovery of complex hydrobiogeochemical processes that govern behavior of subsurface energy and environmental systems, and for establishing the discipline of reactive transport modeling using open source codes, which has propelled scientific discovery throughout the world.
2020 Service: Wade M. Crosson
Citation: This award recognizes Wade Crosson for his outstanding leadership and service to the mission of Berkeley Lab that provided urgent and necessary lab wide guidance and technical policy support under unprecedented circumstances. Many of these endeavors required quick, thorough, and timely communications with Berkeley Lab senior leadership, legal counsel, and collaboration and representation with the DOE Bay Area                                                    Site Office and UC Office of National Laboratories.
2020 Service: IRSO – Larry Li Guo, Michael Hieu Nguyen, Tamar Vered 
Citation: For the exemplary efforts of Larry Guo, Michael Nguyen, and Tamar Vered to address complex and dynamic immigration policy changes in support of the Lab's significant population of international employees and affiliates.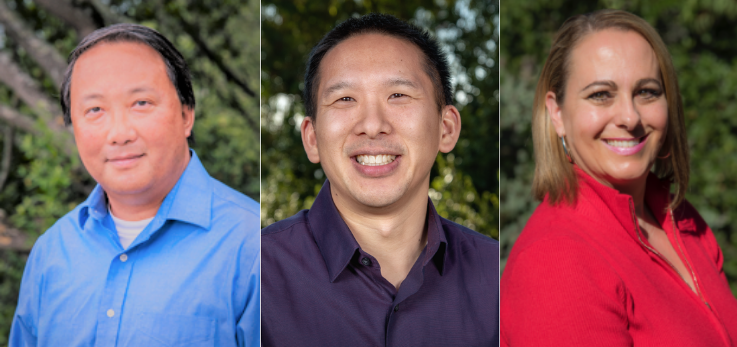 2020 Service: Jan-Fang Cheng
Citation: For technological contributions essential to DOE's success in the Human Genome Project, for developing a world-class single cell capability, and for establishing routine DNA synthesis at the Joint Genome Institute. Jan-Fang's contributions over the last 30 years have enabled endless scientific discovery through centralized genomic resource accessibility.
2020 Tech Transfer: Bob Glaeser
Citation: This award recognizes Bob's contributions to electron microscopy and to cryogenic electron microscopy, which are distinguished by his foundational work in the field and his prolific portfolio of inventions. His work during an impressive 55-year career has accelerated this important area of science and its application in the pharmaceutical industry.
2020 Tech Transfer: BETTER Team –  Chao Ding, Han Li, Xu Liu, Carolyn Szum, Nan Zhou
Citation: In recognition of the exemplary efforts of Carolyn Szum, Chao Ding, Nan Zhou, Xu Liu, Han Li to build important relationships with industry to advance the science of data-driven, remote building energy analysis to improve building energy efficiency at speed and scale worldwide.