2016 The Berkeley Lab Prize – Lifetime Achievement Award: MIQUEL SALMERON
For scientific advances and leadership in studying materials surface and interfaces for energy applications and the development of requisite in-situ characterization tools
2016 Director's Awards for Exceptional Achievement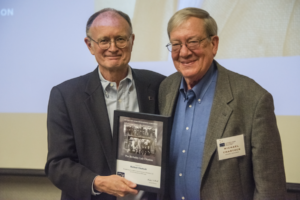 The Berkeley Lab Citation: MICHAEL CHARTOCK
For his impressive ability to tackle any problem that came to Berkeley Lab, always contributing generously, effectively and with great devotion to the institution over the course of his long career.
The Berkeley Lab Citation: JUSTIN HARTY
For the exceptional goals he accomplished in the areas of improving resource management and efficiency, for his success in forming partnerships across organizational/departmental boundaries and for his significant contributions to the DOE system.
Early Scientific Career: HARI KRISHNAN
For sustained and exceptional efforts in software architecture and technical management that have helped science projects meet key objectives and deliverables, and increased the visibility of lab science programs to DOE and the scientific community.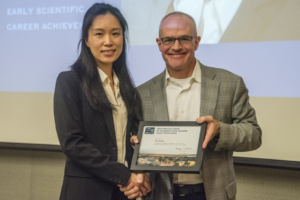 Early Scientific Career: YAN LIANG
For innovations that will enable the transformation of the field of plant synthetic biology while providing novel approaches for crop engineering to support Berkeley Lab and DOE's missions related to sustainability, food and energy.
Early Scientific Career: OLIVER RUEBEL
For the conception, design, and implementation of the OpenMSI system, an award-winning exemplary cross-divisional effort that enables breakthrough science through a combination of technologies for data and computing.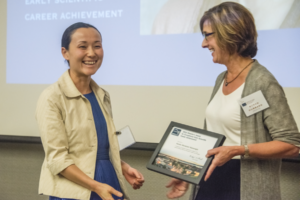 Early Scientific Career: HARUKO WAINWRIGHT
For pioneering zonation-based estimation methodologies, with a focus on novel approaches that use geophysical data and their application to DOE challenges in environmental remediation, carbon cycle, and water resources.
Operations: F$M PHASE IIA PROJECT TEAM
CHUCK AXTHELM
MICHELLE BENNETT
VIK BHATIA
CRAIG CHALLBORN
DAVID GALBREATH
BRIDGET HAVERTY
MINH HUEBNER
MARIA-CORAZON HUTCHINS
JANET LEONG
ANNA LOSEV
HARISH MOHAN
KAREN SALVINI
ANASTASIA SCHILLER
KAMESWARA UPADHYAYULA
ELIJAH WALKER, III
PHIL WEISS
For successfully leading and delivering a comprehensive re-implementation of LBNL's financial system and reporting data warehouse on schedule, in scope and within budget, which provides improved financial information, services and risk mitigation to support the Lab's research mission.
Operations/Safety: WANG HALL (CRT PROJECT) ENERGIZATION TEAM
NICK BARTLETT
ELIZABETH BAUTISTA
JEFF BROUGHTON
DOUG BURKHARDT
TINA DECLERCK
STEPHANIE COLLINS
THOMAS DAVIS
BRENT DRANEY
KATHY EIDSON
STEVE FILIPPOFF
JEFF GROUNDS
JIM HASLAM
JACK HEFFERNAN
SCOTT HOBBS
LISA HUNT
ERNIE JEW
KATHERINE JOHNSON
GLENN KERIN
MIKE KINCAID
TODD LABERGE
KEITH LAFORGA
MIKE LEE
MIKE MAGUIRE
JIM MURPHY
DENNIS NIELSEN
BERNARD RUFFENACH
MARK SCOTT
DARREL SHAW
SHEREE SWANSON
QUANG TRAN
STAN TUHOLSKI
MARV VELANTE
STEVE WARNER
The safe and successful energization of Wang Hall and the Cori computer was made possible by the close teamwork and integration of contributors from across NERSC, Facilities, EH&S, Protective Services and Procurement.
Outreach/Diversity: JAVIER CEJA-NAVARRO
For outstanding contributions to the dissemination of Berkeley Lab science locally, nationally and globally to the public, students, scientists and other stakeholders, and for significant efforts to extend outreach activities to underrepresented minorities.
Scientific: EVA NOGALES
For elucidating the structure and function of the complex macromolecular machine affecting the initiation of transcription – a fundamental cellular process and major point of gene expression regulation – using cryo-electron microscopy.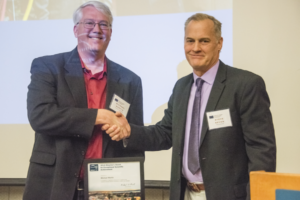 Scientific: ALS INFRARED BEAMLINE TEAM
HANS A. BECHTEL
MICHAEL C. MARTIN
For the development of Synchrotron Infrared Nano-Spectroscopy (SINS).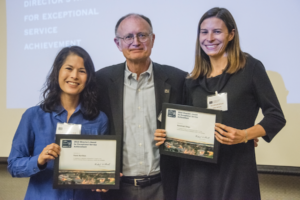 Service: BERKELEY LAB MICROBIOME INITIATIVE TEAM
JIM BRISTOW
EOIN BRODIE
PETER NICO
TRENT NORTHEN
SUSANNAH TRINGE
For exemplary efforts to enhance microbiome research across Berkeley Lab and the nation, for crafting a vision for microbiome research that integrates Biosciences and Earth and Environmental Science Areas, and for their important contribution to the formulation of the national microbiome initiative.
Societal Impact: ALISO CANYON
BARRY FREIFELD
PRESTON JORDAN
CURTIS OLDENBURG
LEHUA PAN
For their contributions to solving the 2015 Aliso Canyon well blowout disaster in Southern California, and to making future natural gas storage profoundly safer through their insistence that regulations require two or more barriers to contain gas pressure in wells.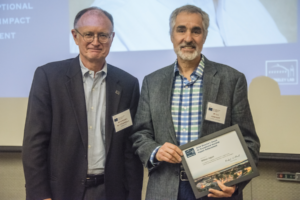 Societal Impact: WILLIAM JAGUST
For giving hope for a cure to Alzheimer's Disease through pioneering studies elucidating its mechanisms, differentiating its symptoms from normal aging, developing clinical trials for the prevention and treatment of Alzheimer's disease, and communicating this work to the public.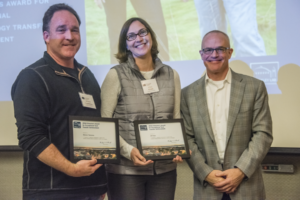 Technology Transfer: CINDERBIO TEAM
JILL FUSS
STEVEN YANNONE
With diligence, resourcefulness and entrepreneurial skill, the CinderBio team transitioned basic enzyme research into green, efficient, cost-effective and sustainable replacements for harsh chemicals used in industrial processes.
Tech Transfer: MICHAEL TUCKER
In recognition of his efforts to develop industrially-relevant technology and transfer it out of Berkeley Lab for commercialization, and his recent leadership in fostering entrepreneurial mindset and skills among Berkeley Lab researchers.
2015 Berkeley Lab Prize – Lifetime Achievement Award
Ulrich Dahmen
Peter Denes
Ken Downing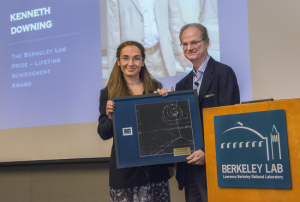 2015 Director's Award for Exceptional Achievement
Berkeley Lab Citation:
Eleanor Blakely Zizka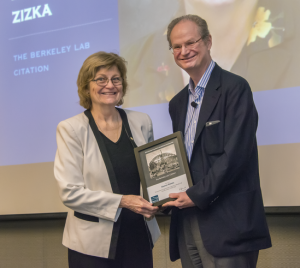 Lynn Rippe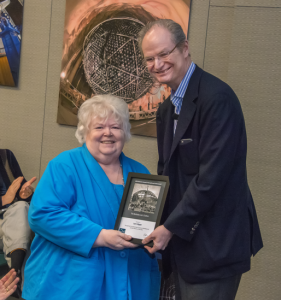 Michael Zisman
Early Scientific Career: Corinne Scown
Early Scientific Career: Alexander Hexamer, Cheng Wang, Eric Schaible
Scientific: Christoph Steier and Arnaud Madur
Scientific: Rich Celestre, David Kilcoyne, Stefano Marchesini, David Shapiro, Tolek Tyliszczak, Tony Warwick, Lee Yang
Operations: Kim Williams, Lon Freeman, Jeff Blair, Glenn Kubiak, Ray Miskelley, Ken Reicher
Operations: Eli Dart and Brent Draney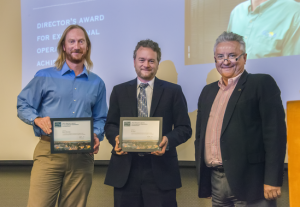 Safety: Scott Taylor
Service: James Sethian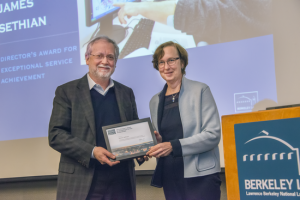 Diversity: Deborah Agarwal
Service: Steve Greenberg
Outreach: Sarah Richardson